Staff
Briana S. Nelson Goff, Director
Briana S. Nelson Goff, Ph.D., LCMFT, is a professor in the School of Family Studies and Human Services, College of Human Ecology, at Kansas State University. She earned her master's degree in marriage and family therapy from Kansas State University and her doctorate in marriage and family therapy from Texas Tech University. Dr. Nelson Goff's clinical experience and research specialization is with traumatic stress symptoms in trauma survivor couples, families and children. Her work has expanded to international trauma, as she has worked in Bosnia-Herzegovina as part of a team through National Research Council grants to work with survivors of the war in Bosnia, particularly children without parental care. One of the most unique aspects of her work at K-State is her development of the Trauma Research, Education and Consultation at K-State (TRECK) Team. This program includes graduate and undergraduate students, and more than 100 students have been involved in the TRECK Team research and projects since it began. Currently, she is the director of the Institute for the Health and Security of Military Families, where she is in charge of developing collaborative educational and clinical programs for military families. In 2007, Dr. Nelson Goff and her husband became parents to a son with Down syndrome. Since 2010, she and a colleague from Texas Tech University have conducted research, workshops and educational programs at their universities, collaborating on a national research study on the positive aspects of having a child with Down syndrome, titled, "My Kid Has More Chromosomes Than Yours!: The Journey to Hope and Resilience in Parenting a Child with Down Syndrome." They have worked together on this national study on parenting children with Down syndrome, which is both a personal and professional endeavor.
Kali Summers, Executive Officer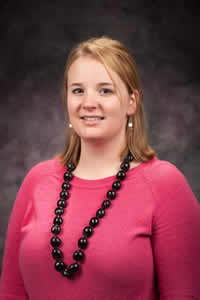 Kali Summers, M.S., CFLE, was an intern for the institute during the Spring 2013 semester. She graduated in May 2013 from Kansas State University with a degree in family studies and human services with a minor in conflict analysis and trauma studies. Kali has been involved with the institute since the fall of 2011. She finished her master's degree in family studies from Kansas State University in August 2015. She also recently became a Certified Family Life Educator. Her work with the institute primarily focuses on the institute's military veteran retreat initiative, in partnership with Invisible Wound.
Lauren Oseland, Graduate Research Assistant
Lauren Oseland, M.S. is a graduate research assistant and doctoral student in marriage and family therapy at Kansas State University. She earned her master's degree in marriage and family therapy from Oklahoma State University in 2014. Lauren's clinical and research interests center on the impact and treatment of trauma and trauma-related disorders in the context of couple and family systems. Her work has also expanded to international trauma, as she serves as a consultant for a non-profit organization in Haiti who serve abused and neglected children. Lauren's clinical, research, and service objectives are to address impasses created by the paradoxical effects of trauma within individual, family, and community systems.